Smile Natural Foods, Private Label Contract Manufacturer in North America, Introduces Premium Loose and Clustered Granola Cereals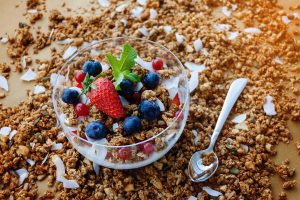 Toronto, ON— [June 29, 2020] Smile Natural Foods is excited to announce the development of premium clustered granola cereals, unlike no other product currently on the market. Through extensive research and real life testing, Smile perfected the process, offering loose and clustered granolas in a variety of unique flavors.
Clustered granolas are a wholesome cereal that is baked until lightly toasted and consists of premium rolled oats, grains, seeds, nuts, and fruits. Smile's proprietary recipe and innovative process retains the best taste and captures amazing textures for a delicious crunch in every bite.
"Smile's premium loose and clustered granolas are top of the line. We develop outstanding recipes with on trend and unique flavors. Our proprietary blends are consistently analyzed for its texture, nutritionals, and sensory attributes, which is why our granolas are better than the national brand," states Anthony Estrela, Quality Assurance Manager at Smile Natural Foods.
Equipped with state of the art facilities spanning over 160,000sq ft., Smile has the capacity for large scale production and speed to market with advanced logistic systems. Utilizing in-house formulations that exceed industry standards, Smile is a leader in private label loose and clustered granolas, offering flexible packaging options from various sizes of stand up pouches, cartons, and bulk quantities.
"Our world class facilities feature cutting edge technology, from industrial ovens to high-speed packing, allowing us to deliver premium cereal products to our clients across North America," states Sebastian Afloarei, Supply Chain Manager at Smile Natural Foods.
Smile Natural Foods is a premier private label and contract manufacturer, creating exceptional products for retailers across North America for over 45 years! Equipped with state of the art facilities spanning over 160,000sq ft., Smile is dedicated to innovating the food industry, through advancing technologies and creative in-house recipes and formations. Through decades of experience, Smile has built strong relationships with suppliers in over 40 countries across the world, sourcing the highest quality ingredients. With a passion in granolas, mueslis, oatmeal's, and a vast variety of cereals and various products, Smile is positioned as a strategic partner offering speed, flexibility, and innovation.
-30-